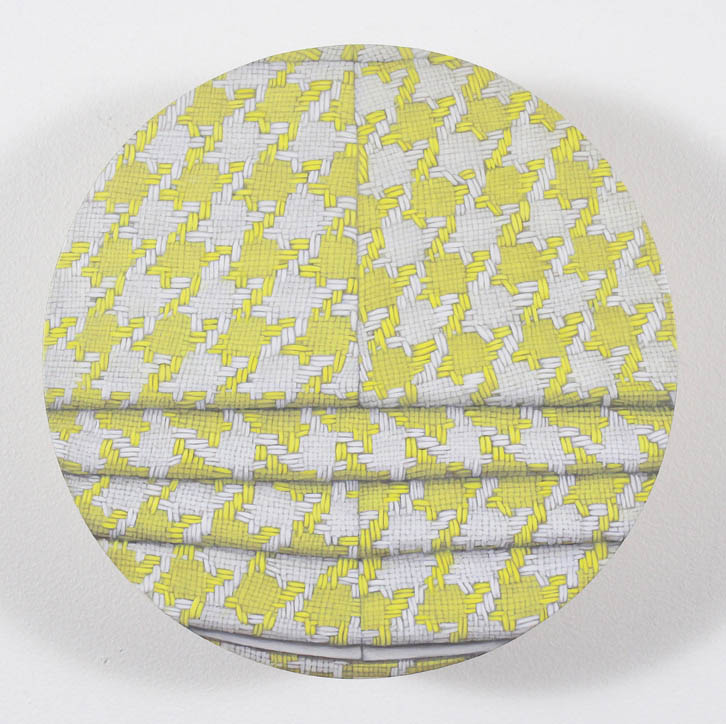 Replete, 9" diameter, oil on panel, 2015
Waist, 15"x16.5", gouache on paper, 2015
Seen Seam, 15"x16.5", gouache on paper, 2016
All Day Soft Light, oil on linen, 12.5"x12", 2014
All Day Soft Light, side view
Bright Light, Daylight, oil on linen, 12.5"x12" 2014
Intersection, Both Armpits, 16.5"x 19", gouache on paper, 2014
Poise, gouache on paper 16.5"x 19", 2015
Cleave, gouache on paper, 17" x23", 2013
Curled Gouache #2, gouache on paper, 13.5" x 14.25", 2014
Curled and Quartered, oil linen, 19"x18", 2011
Curled Gouache #1 , gouache on paper, 13.5" x 14.25", 2014
Vantage, oil on mounted linen, 12.5"x12", 2010
Zig Zag At the Bottom, Gouache on paper, 16"x19", 2012
Zig Zag (Waist Waste), oil on mounted linen, 12.5"x12", 2010
At the Bottom, Gouache on paper, 16"x19", 2012
In Time and Repetition
The starting point for this body of oil and gouache paintings is collecting used, mass-produced fabric items, which I arrange into 3-dimensional structures. For this series, I've chosen four items: a polyester shirt, a polyester skirt, a woven skirt, and a tablecloth.
Read full In Time and Repetition Statement
To see the title of each image, click the "i" button in the lower right corner.